How it Works
Accurate Scene Replication

We can provide accurate measurement (including laser scanning) and photography services if you're unable to provide 2D plans or 3D models.

Photo Realistic Modelling

We create photorealistic and accurate models of scenes from the info we've gathered. We're also able to create scenes from a brief only – no plans required.

Object Interaction

We can enable users to interact with and change object and surface elements of scenes, such as surface finishes and furniture items in a house scene.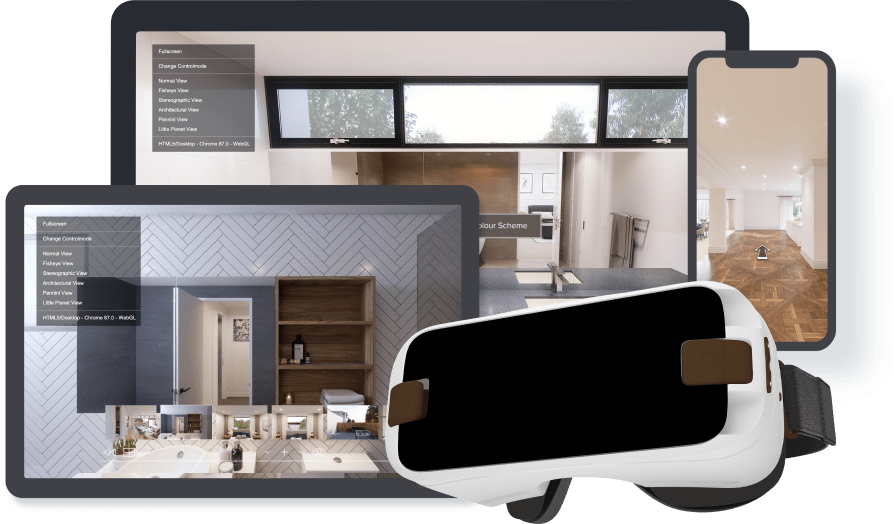 Your 3D Content. On all Devices. On Your Website.
The 3D interactive content we create for you can be consumed from your own website and via all popular devices including mobile, desktop and VR.
Virtual Tour Demo
Virtual Reality
Captivate your target audience with photorealistic & interactive 3D environments, delivered via the web and all popular devices.
Mobile VR Mode
Experience Virtual Reality in the most accessible and common ways. Utilising mobile phones and Google Cardboard bringing immersive experiences to everyone
HTC VIVE
HTC Vive gives you unparalled true to life experiences and is at the top end of VR along-side the Oculus Rift. Light Media creates 3D content for the HTC Vive helping you to target and reach your audience and allowing them to have the ultimate VR experience.
Oculus Rift
Oculus Rift is a powerful, PC-tethered VR headset. Light Media creates 3D content for the Rift giving you the ultimate VR experience and transporting you to a virtual world.
Looking for a professional 3D Rendering provider?
Our 3D rendering professionals are highly specialised and trained to deliver outstanding visualisation images to Australian companies. We dedicate significant time and effort to deliver only the best to our clients. From our office in Melbourne, we service architects, builders, property developers, and real estate agencies with our high-quality 3D rendering services.
What They Are Saying
Kelly Walter, CEO - Daily Orders

I've been very impressed with Light Media's copywriting team. They were given a simple brief and blog titles and have come back with exactly what I need, every time. SEO focused, great content and I don't have to change a thing! Very impressed with this service

Andrea Lott, CEO - ACNEM

Great collaborative team, a forward thinking company; solutions focused that goes above and beyond to deliver results. Cannot recommend enough!

John McDonough, COO - AusCycling

AusCycling's new digital presence is the product of a highly effective collaboration with the Light Media team. We asked for professional and informal, serious and fun, and are delighted with the result!

Robin Werth, Marketing Manager Andi-Co

Light Media are both responsive and proactive. They have a friendly, knowledgeable team and continue to provide on-going support.

Jim Ilievski, CEO - CKI Group

Light Media created an incredible result for our company - going beyond the brief to deliver an impressive website for us! Amazing Job!!